Ready for a break? Escape to the Wilderness!
In 2021, exploring the world outside of your own home has truly become what dreams are made of. Topping the bucket lists are private wilderness destinations and with rolling lockdowns in many parts of the world, getting away for a responsible, secluded adventure escape is the epitome of luxury.
In July 2020, when resorts in British Columbia were permitted to reopen, Nimmo Bay was ready. While many other destinations and businesses made the tough decision to shutter their doors, we chose to hold on to the hope that we would be able to cautiously and responsibly welcome guests. We brought the team on as soon as we could to prepare and train for all the challenges that Covid-19 presented to Nimmo Bay. Although the season was not what we expected it would be, we are incredibly grateful to the Canadians who chose to visit us for a magical summer escape, and we are endlessly thankful to our loyal guests who trusted us enough to defer their 2020 trip deposits to future bookings, allowing us to carry on.
With a year of invaluable experience operating successfully with full Covid-19 precautions, with a team on board who have been with us every step of the way, and with a resort and hospitality philosophy that lends itself so naturally to seclusion and private travel, we are ready to provide exceptional escapes again this summer.
5 reasons Nimmo is your 2021 Summer escape
1. Nimmo Bay is Small and Secluded
With only 9 private cabins, Nimmo Bay never has more than a couple dozen guests on site at any given time. Our small size, remote location and our high team-to-guest ratio allows us to provide personalized, private service to each group while keeping everyone considerately distanced at all time. As they say: fewer faces, bigger spaces.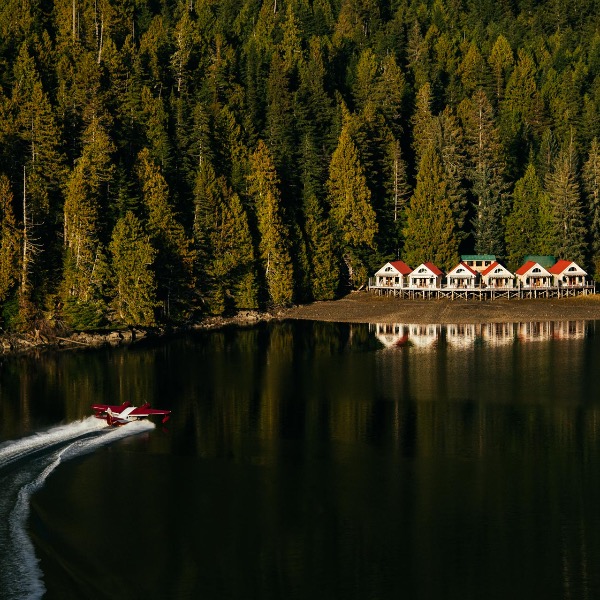 2. An Experienced Team
Faced with an uncertain season last year, we measured the benefits and challenges of opening, when permitted. One of the strongest reasons we had for staying committed to operating, no matter the risk of financial losses, was to keep our amazing team engaged, employed and learning. Now that we are preparing for another season with health precautions in place, we are feeling confident in our knowledge and the expertise we developed last year. Our team has a year worth of experience operating in Covid conditions and know exactly how to provide exceptional experiences that follow all industry and provincial guidelines while being unmarred by pandemic negativity or limitations.
3. Exclusive Group Excursions
All activities at Nimmo Bay are exclusive to the group whether on a private boat, hike or helicopter. The ample fleet of state-of-the-art boats, our extensive trail network, the wide variety of activities to choose from and a highly trained team allow us to seamlessly provide all of our wilderness and wellness options to private groups.
Nimmo Bay has historically been quite a social place where guests are able to mingle and meet one another. We love that groups, especially those with kids or teens, have been able to make life-long friendships that last beyond their stay. We know that groups will be able to spark friendships at Nimmo Bay again someday, but for now, private activities are allowing guests to embrace deep connections and a beautiful sense of seclusion and privacy in the wilderness.

4. The Perfect Setting for Dining, Indoors or Out
In the spring of 2020, the newly built floating restaurant, Little River, was towed to its home in Nimmo Bay and it could not have come at a better time! Custom designed to offer spacious private dining, gorgeous outdoor lounging spaces, and glass walls that open up, allowing for the beautiful views and fresh air to flow through the entire space, Little River is the perfect setting for dining in the wild, Covid or no Covid!
5. Location is Everything
The city is kind of a drag right now. Everywhere you turn there are limitations, restrictions, line-ups and closures. Freedom is in the wilderness and we are ready to help you enjoy it to the fullest! Come and join us in the Great Bear Rainforest for some relaxation, adventure and a break from the crowds.
---
Words: Brianna Sloan
Photos: Jeremy Koreski