Adventure meets Wellness at Nimmo Bay
Most people agree that these days, we are too busy, too stressed, and too over-scheduled. With so many of us working from home this past year and into 2021, there is a scramble to find space to unwind in meaningful ways. We now find ourselves searching for a place to re-connect with nature and ourselves, to do something that makes us feel alive while also slowing down and filling our cups with more space.
Take a moment with us to picture yourself at Nimmo Bay. You wake up and make yourself a hot tea or coffee in your cabin and, not yet fully awake, you sit quietly on your private patio to enjoy the view. Maybe you are over-looking the babbling creek flowing from the waterfall to the ocean or perhaps you are watching the sea as it gently laps at the shore just below your feet. Imagine the sound and the feeling of the air on your skin. You feel calm and peaceful. There is stillness all around you.
To begin your day you choose to stretch your body in a yoga class before walking the floating dockways to the restaurant where you sit on the deck as the mist lifts from the bay. After a nourishing breakfast you meet with your personal wellness guide to discuss what the rest of your day has in store…
"for me, it's about letting mother nature take control"
-Fraser Murray, CEO of Nimmo Bay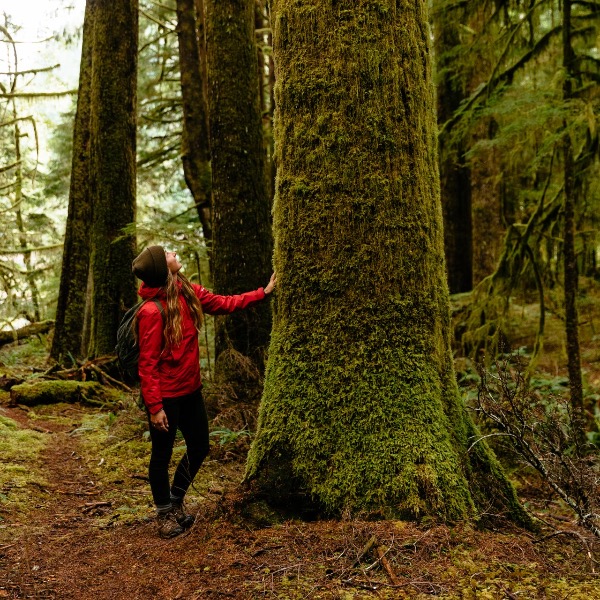 Traditional wellness retreats generally have a few components in common. Normally, you'll see a rigid schedule, some kind of meal-plan, often designed for weight loss, meditation and yoga or boot-camp workouts, and one-on-one consultations.
At Nimmo Bay we don't think that strict agendas and inflexible plans lend themselves to wellness. That is why we combine amazing cuisine (drink the wine, if you want to), wilderness adventure and flexible itineraries with all of our wellness offerings. We offer yoga and movement classes for those who appreciate that type of exercise and we also offer challenging hikes in the rainforest in case that's more your pace. We customize every experience to suit the interests and preferences of our guests and our wellness program is no different. We believe that our guests know what their wellness needs are and should be part of designing their valuable time. The wellness team at Nimmo Bay works closely with our guests to plan and guide their journey while respecting that each individual has unique needs and a one-size-fits-all approach doesn't work for personal wellness.
"For a lot of people, clarity comes through movement and the medicine that is being with nature"
-Becky Murray, Director of People, Finance and Operations at Nimmo Bay
Two ways to include wellness into a stay at Nimmo Bay
Deciding to book a wilderness adventure is, in itself, a perfect way to dedicate some time to personal wellness and for those who would like to take a step towards a deeper experience, Nimmo Bay has two options to choose from.
"People don't always realize just how impactful it can be to just be there in the forest, the mountains and ocean."
-Jenny Jewczyk, reservations manager at Nimmo Bay
The Wellness Within the Wild package is a trip enhancement that turns any of our Inclusive Experience bookings into a personally curated wellness retreat. Wellness experiences are woven gracefully into each day of the stay to maximize the healing power of the Great Bear Rainforest. Our dedicated wellness guides curate experiences to meet the unique needs of the guests and the flexible format allows the Nimmo Bay team to personalize treatments and excursions that deepen the wellness journey. It's about providing the space for what is needed whether that is meditative forest bathing, the sense of pure freedom found in the wind on fast boats, pushing boundaries with physically challenging activities or melting away during treatments and saunas.
The Forest Journey trip enhancement is perfect for individuals, couples, families or groups, and is a single day, tailored experience for those who would like a dedicated wellness day but who are not drawn towards a full trip with this focus. Each Forest Journey is curated to suit the intentions of the group. Guests are guided by our wellness team on an intentional walk through groves of cedar giants and waist-high ferns with time dedicated to forest bathing, guided reflections and journaling, and are offered other opportunities to closer align with intentions. Also included is a nourishing lunch and a closing ceremony to honour the experience. Whether the need is to let go of what is no longer serving, to fill-up and recharge, or to find connection within yourself, one another or the surroundings, mother nature will show up to guide the journey.
The Forest Journey has been especially well-received by families who may not have anticipated having a deep and meaningful wellness experience as part of their wilderness adventure. Reservations manager, Jenny Jewczyk, says that "Many families come to Nimmo Bay for connection and bonding time but it ends up being a wellness experience. It is a surprise for parents, just how much kids get out of it".
With our lives dictated by video calls, work and school schedules, and the constant pull of responsibilities and appointments, what we really need is re-wilding. We invite you to let go, and let Mother Nature take control and take you deeper.
"I really notice that the conversation changes at Nimmo. In the city it's 'where did you get that sweater?' and at Nimmo Bay it's about the universe and the big picture. It's refreshing. "
-Becky Murray, Director of People, Finance and Operations at Nimmo Bay
---
Ask an Expert: Thoughts from a Nimmo bay wellness guide
A Q&A with Nimmo Bay's head Wellness guide, Sarah Gover
What ingredients do you think make a perfect wellness retreat?
It looks different for everyone which is why it's good to find a retreat that recognizes this, and doesn't necessarily have a pre-determined regimen. Must haves, however, include getting away from your daily routine. Getting out of your comfort zone is essential, that's where the change and transformation happens, when you're outside of what is usual to you. Also, time that is carved out for moments of stillness and moments of solitude. Our busy day-to-day lives don't often allow for the space to check-in with where you're at, at that given moment, and that in of itself can be profound. And of course, nature, there's no better balm for the soul than nature herself. At Nimmo Bay, your needs are anticipated, so that you can float through your experience and build your relationship with nature, and in turn, build your relationship with yourself. Finally, nourishing food that's been taken care of for you!
What Makes Wellness at Nimmo Bay unlike anywhere else?
A wellness retreat at Nimmo Bay doesn't look like what one would look like at a spa-style retreat. The fact that your days are planned with you in mind and there's no set formula that is followed allows the retreat to be really different for everyone. The wellness team gets to meet the individual and assess what that person truly needs. At Nimmo, that idea of the need to "be productive" to have value is taken away, so you can really just be there and be cared for. Plus it's a bit of an adventure – you're not at an ashram! That, and the easy access to the crazy, amazing wilderness which will take your breath away. True BC wildness.
What sets the Nimmo Bay wellness team apart?
Nimmo provides the space for the team to be creative and pursue what brings them joy and encourages growth within. We are always taking courses to expand our horizons and in turn, we keep our craft fresh for ourselves. We've been able to bring this creativity into the way we've developed our Wellness programs. As Wellness Guides, we've been able to merge our passions of being in nature with deeply restorative bodywork, and that keeps us inspired to always bring our best to the guests.
What are 3 things that you do with guests at Nimmo Bay that readers can do for themselves at home?
1. Get outside, find a tree, introduce yourself to this tree, and sit with it. Get to know it a little bit, whatever that looks like for you. See what happens!
2. Eat locally. Connect with Earth and what she provides.
3. Setting intentions. That could be for the year ahead, an upcoming project, or even for the day you're about to have. Sit down and really think about what will serve you and the world around you. What to do you yearn for?
---
Words: Brianna Sloan
Photos: Jeremy Koreski